Hey Fabulous Folks. Today I'm playing Eff, Marry, Kill with The Vintage Apple and Blonde… Undercover Blonde.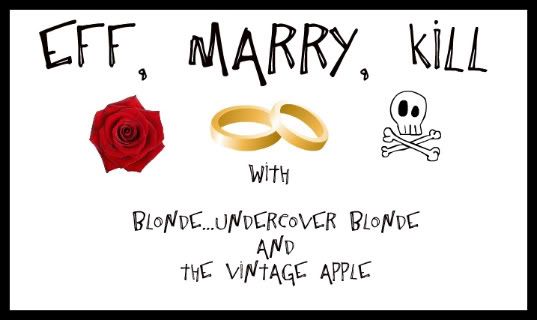 The rules are simple post a picture of the celebrities that you would… you know. My sci-fi geek is showing today so I'm theming this post EFF, Marry, Kill: Warriors & Kings Edition.
EFF- Aragon of Lord of the Rings (Viggo Mortensen)
What's not to like about this tall, dark, and handsome man. And his eyes are too prefect.
Marry- Khal Drogo of Game of Thrones (Jason Momoa)
Don't get me wrong he is hot without the warrior get up but he is smoking hot as the Khal. Plus that would make me a Khaleesi.
Kill- Paris of Troy (Orlando Bloom)
Oh Paris, you may be nice to look at but your fighting skills suck. You would get the axe in my book. Sorry.